Shipping Information for Heritage House
1. Package Arrival Time
Most orders received before noon Arizona time are processed the same or next day. Regular shipping is 5 - 6 business days to a business and 6 - 7 business days to a residence. Orders with items on back-order will be held until items arrive. Custom items (including most t-shirts and banners) may take up to 3 business days longer. You will receive notice if your items are on back-order.
2. Faster Delivery
All orders received before noon Arizona time will be sent the same day unless certain produced-on-demand items are part of the order (such as banners and t-shirts). Next day, second day, and 3-day select are all available for an additional charge. As you check out you can see the options available, the delivery dates, and the cost.
3. Shipping Charges
Shipping is calculated on weight of package and zone it is shipping too.
You will be offered different methods of shipping and costs associated with the level of service you select.
4. International Orders and Orders for Hawaii and Alaska
For international orders we will figure correct shipping charges for you. You may simply submit your order over the internet, being sure to give us your e-mail address. We will e-mail you back with the final order, shipping charges included, for your approval, also by e-mail. You may also call us for assistance at 1-928-536-7705.
When Will it Arrive ?
Your order will either ship the day you order or the following business day (see notes above). Your order will be sent UPS Ground and should arrive in the number of days shown in the map below. This map is from UPS but is not always exact. Also, deliveries are not guaranteed to arrive exactly using the information below but we do find it is accurate 90 % of the time. In 99 % of the cases, the delivery occurs in the time specified below or one day after. Please remember, UPS ONLY moves packages on business days. If you are 3 days from our shipping location and you order before noon on Wednesday the order will arrive on Monday (in 90% of the cases). You do NOT count the day the order ships as one of the 3 days.
U.S. Ground Map Results
Business days in transit from: SNOWFLAKE, AZ 85937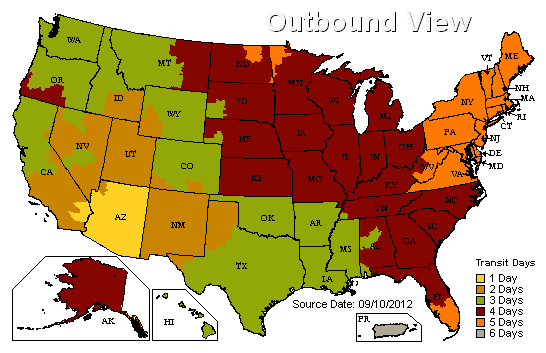 This map is a general representation of UPS Ground transit times.